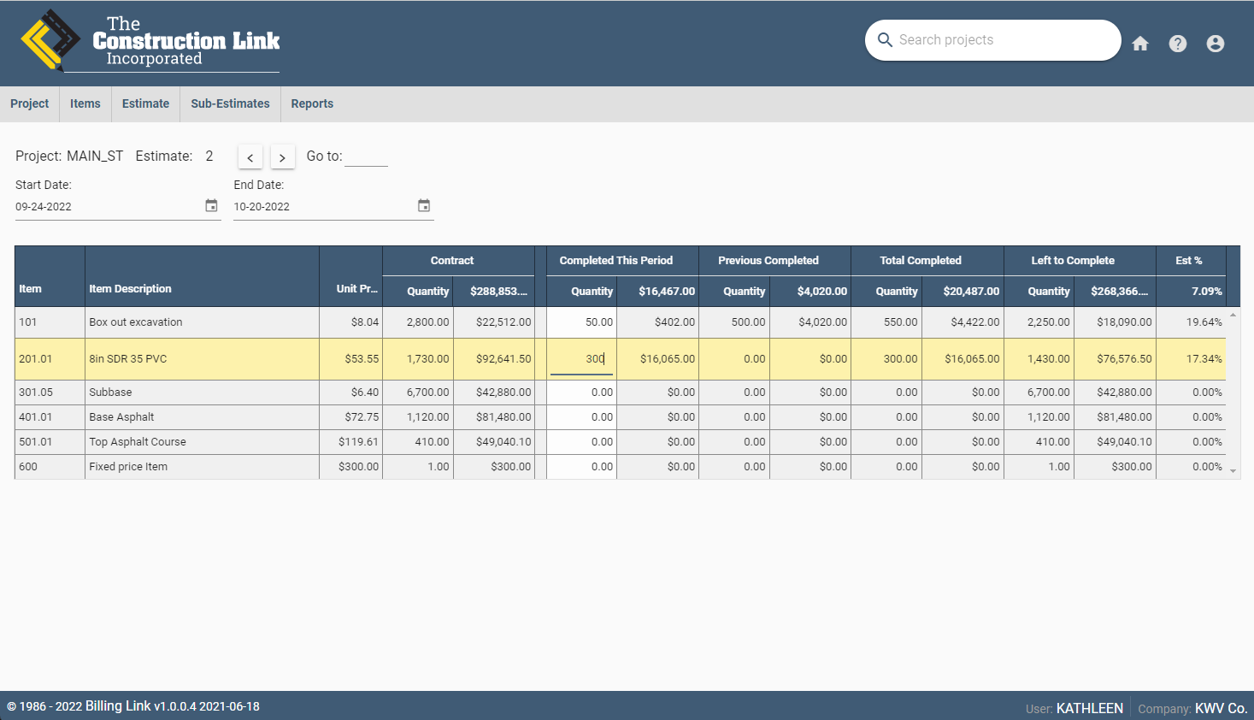 "Billing Link connects the field to payments. If we didn't have Billing Link, I don't know what we'd do."
Get Paid On Time
Takes the work out of tracking item quantities that are completed by you and your subcontractors. Your quantities are tracked throughout the job - you know exactly what is owed, so you get paid what's owed, on time.
Create Invoices Quickly
Progress invoices calculate quantities completed for the current period, previous period, overall total, and remaining total. Each progress invoice works off the last and includes stored materials, retainage, and previously paid amounts.
Billing Organization
Full visibility into your invoices, all in one place. Know how many invoices you have created, sent to your customer, and quantities paid by your customer. No more searching through various systems and spreadsheets.
Link Entire Estimating Process
Seamless, consistent data flowing from the field to the office throughout the project life cycle. Billing Link integrates with both Estimating Link and Field Link to connect your data in one linked solution.
Billing Link™
Easy-to-use, integrated construction estimating solutions to Bid, Track, and Get Paid for your jobs.
Create Project Invoices
Get paid on-time for what you are owed.
View Project Summary
Items are displayed in order with the unit and total quantity price. Your completed quantities are brought in from Field Link so Billing Link can do the rest.
Automatic Calculations
Billing Link automatically calculates everything, so you don't have to: Completed this period, Previously completed, Less retainage, Less Previous Estimates, Total Due Less Retainage, Total work Completed, Total retainage, Total paid to date, and Remaining balance.
Stored Materials & Retainage
Billing Link offers entry for stored materials and retainage for each invoice.
Save & Print Professional Invoices
Once your quantities and other entries are completed, Billing Link generates a professional invoice that you can print or download as a PDF to send to your customer.
Integrate with Estimating Link & Field Link
With the click of a button, your bid items and quantities are displayed in Billing Link. See your Item Description, Unit of Measure, Contract Quantity, Unit Cost, and Total Cost.
Invoice & Payment Tracking
Tracking specifically designed for the most important part of estimating - getting paid.
See Progress Invoices in One Place
Billing Link allows you to easily navigate from your first progress invoice to your last and customize your payment periods by date (weekly, bi-weekly, monthly, etc.) Run reports to quickly analyze all your numbers.
Track your quantities by the day
Billing Link allows you track quantities by the day, and the program will automatically run your quantity totals for each item for that period. Enter the date, Name of person, calculations of daily totals, and notes into the daily detail.
Know your Billing Status in one click
Through the invoice summary, you instantly see each invoice for each pay period in an easy-to-read format. See the invoice number, the date it was sent to the customer, the amount billed, amount paid, and the balance owed.
Quantity Comparison
Using the Quantity comparison chart to track the difference in the quantities you completed vs. your customer's stated completed quantities. Billing Link will calculate the quantity and dollar amount differences.
Reports With Data You Need
Use our built-in reports to download PDF report summaries for all projects, single projects, and single items. Reports include an Invoice Summary, Completed Quantity Comparison, Subcontractor Invoice Summary, a Field Worksheet, an Item Worksheet, and more.
Subcontractor Invoice & Payment Tracking
Track and monitor your subcontractors so everyone is on the same page.
Subcontractor Items
Billing Link will automatically determine your subcontractor items when you bring them over from Estimating Link. With the click of the mouse, that item can be added to your subcontractor invoice.
Subcontractor Completed Quantities
Subcontractor quantity completion numbers are input in a similar interface as your own. Simply add your completed quantities and let Billing Link calculate the rest.
Subcontractor Calculations
Billing Link automatically calculates everything so you don't have to: completed this period, previously completed, total work completed, left to complete, retainage, pro-rated share of bond, deductions, and totals.
Track Subcontractor Invoices
Easily add the invoice date for your subcontractor to the total invoiced amount they billed you.
Know Your Subcontractor Billing
Through the subcontractor invoice summary, you instantly know when your subcontractor invoiced you and for what pay period, the invoiced amount, date, amount paid, and amount owed.
What our clients say about us
Support Beyond Software That We Provide
Award Winning Customer Support
Onboarding & Training Customized virtual training included with your purchase to ensure your success.
Phone & Email Support
All our support is handled in the United States and our knowledgeable and friendly team is on stand-by, ready to help.
Award Winning Customer Support is higher than Knowledge Link
Knowledge Link
Online library of videos, tutorials, how-to documents and recorded live training.
Virtual Training Series
Live virtual training for continuing education.
Discover your Missing Construction Link