Onboarding
We want you to succeed, so we've got your back.
We are committed to investing in your success, and we understand that your company has unique needs. A well-thought-out, customized deployment and training plan is the key to success. Our 3 Phase Approach to implementation and training provides a roadmap for your success
1. Implementation
We make getting you and your team up and running a priority, while simultaneously ensuring long-term success.
Our implementation process is simple and easy, and we work with you and/or your IT department from start to finish.
Virtual implementation utilizes screen share technology to make the process smooth.
2. Training
Our training plans are flexible and are offered virtually via screenshare, on-site at your location, or a mixture of both.
It is in our best interest that you and your team are properly trained so you get more from your program with less unanswered questions.
The best approach is a customized one that works for you.
3. Continuing Education
Our support team is ready to answer both simple and complex questions via phone or email.
You also have access to Knowledge Link, our online library of quick video tutorials, how-to articles, and recorded live trainings.
Our Virtual Training Series provides classroom style instruction, which is free for all active users.
Training
Even our most experienced users benefit from continuing education. Join our live
virtual trainings for free or customize a virtual or in-person training.
Virtual Webinar Series
This comprehensive training is a series of live classroom style webinars that walk through frequent customer support inquiries. Even our most experienced users discover new tips and tricks to save time and money. You'll have the opportunity to get answers from our software creators during the Q&A sessions.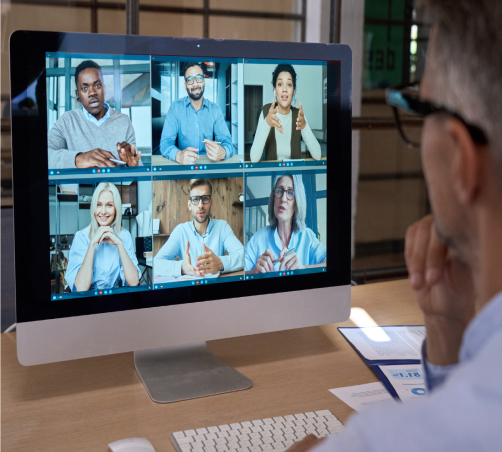 Customized Online Training
Want to deep dive on specific topics? Online training is billed by the hour and can be for a single user or your entire office.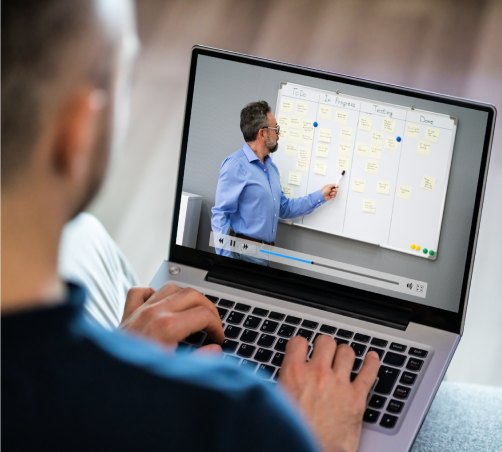 In Person Training
On-site training is available on a per day basis and is customized to your company's specific needs.
Knowledge Link
Don't feel like chatting? No worries. Access our Online Library that houses our live recorded trainings and quick tutorials. The library consists of easy-to-watch, on-demand videos for both beginners and experienced users.
Articles
Step-by-step instructions with screenshots on specific program features. These how-to articles walk you through the software at your pace.
Live Recordings
Virtual Training Series from past years, partner webinars, and other various live trainings are recorded and available on-demand.
Video Tutorials
Quick videos that show you specific tips and tricks to maximize your efficiency and make you a Construction Link expert.
Tips & Best Practices
Knowledge Link lets you master your software at your own pace on your own time. We're always a phone call away if you get stuck.
All Your Questions ANSWERED!
How does the shared license pool work?
Active Estimating Link customers can have multiple users install Estimating Link on their PC's. User Management Link, TCLI's user/license portal, gives you the pwoer to assign and unassign licenses to those users, thus sharing the licenses. Only the user(s) with licenses assigned to them via this portal will have permission to open the software.
What's the difference between online and on-premise?
Estimating Link Online (ELO) is a TCLI Virtual Desktop with Estimating Link installed on it. An internet connection is required to access it. ELO can be accessed from multiple computers, and multi-users access the same database on our cloud that is managed by us. On-premise is Estimating Link downloaded and installed locally on your PC. On-Premise deployment connects your PC's to your local server, and remote access is limited. Your database is managed by you or your IT department.
What's included in the base models of the software?
Our base model is our advanced model! We do not offer different tiers for basic, intermediate, enterprise, etc., so all users enjoy every powerful feature in the program. This one version of Estimating Link includes vendor comparison tables, advanced markup analysis, security options, and more.
Can multiple estimators work on the same project at the same time?
Yes. Estimating Link was designed for both individual and simultaneous usage. Whether you choose Estimating Link Online or an On-Premise Server deployment, multiple users can work in and make changes to the same project at the same time.
Will my field staff be able to see what I estimated?
Only if you want them to. Field Link gives you the capability to choose permission levels so users only see what you want them to see.
Is Field Link accessible in the field and in the office?
Yes. Field Link is a web application so all that is needed is internet.
How do I send an awarded job to Field Link?
You can do this with or without Estimating Link. With Estimating Link, you click a button and your project is sent to Field Link with all your items and resources. Without Estimating Link, you can use our handy spreadsheet import wizard to populate Field Link.
How does invoicing work in Billing Link?
Invoices can be generated directly from Billing Link and tracked using smart invoice management capabilities that track invoice dates, record numbers, payments, amount due, percent billed and so much more.
How do Estimating Link and Field Link integrate with Billing Link?
When your project is awarded, you can send it to Field Link and Billing Link with a click of a button. If you are using Field Link, you can easily pull completed quantities from Field Link so there's no need for duplicate data entry.
Can I track Subcontractor progress and track payment?
Yes. Easily track all your subcontractors quantities as well as how much they have been paid.
What's included with support?
Everything we know you'll need. Our award winning support is included with every subscription. Phone and email support, on-demand virtual library, live virtual training series, software updates, are all included.
Why don't you require training?
We don't have to. Our solutions are so easy to use that our customers are up and running in no time.
How do you onboard new customers?
In a way that works for you. Onboarding of new customers looks a little different for each user since each user is different. We use the Zoom platform so we can toggle between our onboarding specialist's screen and the new user's screen. We can onboard multiple users within your company at the same time or each user individually.
What is Knowledge Link and how do I access it?
Knowledge Link is our online, on-demand library of resources including: quick videos, recorded live trainings, how-to articles, tips and tricks and so much more. Knowledge Link can be accessed through your TCLI solutions.
Do you offer a User Conference?
Yes. Our user conferences are offered virtually and to all active customers. We send out a survey a couple months ahead of time to customers and use that information to develop the year's best training series.
Will you come to my office and train users?
Yes. The virtual trainings are included with your active license. On-site training does come at an additional cost.
Discover your Missing Construction Link