Five Questions to Ask When Evaluating Construction Estimating Software
You are looking to make your construction business more efficient by using construction estimating software, but there are a lot of options out there. How will you decipher all the features, choices, and fine print? Read on to learn what to look for when evaluating your construction estimating software options.
1. Does the Software Fit Your Needs?
You do not want to pay for more than you need to bid your projects day to day. When choosing your estimation software, consider what your company actually needs. Are there features that look amazing but you know you'll never use? Are there features that you need that are considered "a la carte" items and would cost you more money? Are you paying for a software that does way more than estimating? Do you need it to do that? Do you have the resources to spend weeks implementing and learning the program? Reputable estimating software will offer customizable solutions that fit your company's size and resources. If the estimating software package feels too big and overwhelming for your business, it probably is.
2. Does the software take a long time to implement and learn?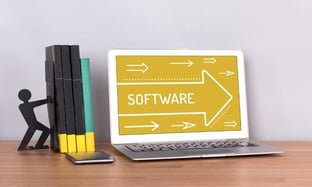 Your estimating software should be easy to implement, learn, and train others to use. Ask about the software's implementation process. Is the implementation lengthy (more than a few hours or days)? Is the implementation process required and rigid? If the implementation is lengthy, then you can guarantee the learning curve is big too. If the software is hard to navigate, employees are likely to become frustrated and will be tempted to abandon it. Choose an estimating software that everyone can be comfortable using in a short period of time. Take advantage of any Free Trials offered for the estimating software you are considering, and gain feedback from your team.
3. What is the Overall Cost?
Besides the upfront costs of estimating software packages, there are other factors to consider when evaluating the cost of the construction estimating software. When implementing new software, it takes time to set up and train employees on how to use the new system. If implementing the software requires your business activities to halt, the cost of the software increases due to reduced time estimating and being awarded projects. Find an estimating software where downtime is minimized when implementing the new system.
4. What Does the Technical Support Include?
It is not abnormal for software to have an error or a feature suddenly stop working. When you come across any problems with the software, there should be a dependable support team ready to assist you. It is important to have support that can respond quickly and help you through any problems you encounter.
Look for estimating software with on-demand support that can be accessed via phone. Some software companies will limit support to email only unless you pay more, and response times can be slow, which can potentially crash deadlines. Technical issues are often easier to understand over the phone with a real person – so make sure that's an option for you. Search for reviews of the support team or ask for client references. Actual users of the software will tell you whether the software is worth purchasing. Strong positive social proof is a very good sign to a potential customer.
5. Are there any Exclusivity Clauses or Hidden Fees?
Some estimating software has contractual obligations you must abide by when using their software. Read through the contract to see if it contains any exclusivity clauses or hidden fees. Certain clauses hurt your business and software can become complicated to work with, especially if your company is uses other software solutions. Before locking yourself in to a contract with the software provider, thoroughly read over all aspects of the contract.
Turn to a Solution that Offers Simplicity, Affordability, and Great Support
Estimating Link give you all the benefits and features you need to bid your projects accurately and efficiently without all the fluff. An award-winning support team is available anytime by phone or email, and when you call, you get a live person to help you solve your problem quickly. Support is U.S. based, so you can always communicate easily. All the features, benefits, and support wrapped in a perfect package that won't break your bank. Try Estimating Link Free today! You'll wonder why you didn't do it sooner!